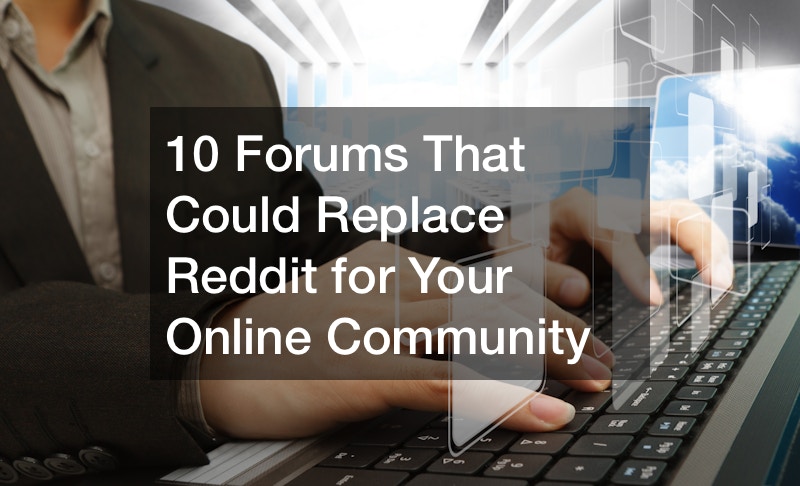 10 Forums That Could Replace Reddit for Your Online Community

Reddit is one of the most popular go-to websites for questions, answers, opinions, confessions, etc. The site has been around since 2005 and now has more than 430 million users. If you have a Reddit account, you've probably spent many hours reading, 'researching,' and socializing. However, you might want to try something new. You may not be happy with the interface, administration, settings, or crowd. These are examples of some sites that could replace Reddit for you.
1. Hive
Hive is an excellent forum if you could replace Reddit. It has a variety of communities within its site. Some of the most popular communities are LeoFinances, Pineapple, Splinterlands, Alien Art Hive, and Movies and TV shows. It's a safe place to visit to share ideas and information about your common interests with others.
For example, Hive's Movies and Television section is a great place to go if you're into TV shows and movies. You can click on the side link and find many posts about recent and old movies. It's beneficial if you're thinking about watching a flick but don't know if you want the expense. You can read the writer's reviews and the readers' comments to help formulate a decision about whether to spend two hours of your life watching it.
You can also communicate with other movie buffs and go back and forth with your thoughts and comments. The same concept applies to old and new television shows. This site might be more interesting than Reddit because of how it's designed.
If you want to learn about Bitcoin or something related to money, Leofinances is the place to find helpful articles, tutorials, and strategies. The Photography Lovers section is another area you should explore. It's where you'll go if you want to find breathtaking and emotionally captivating pictures.
You might find photos of people, monuments, famous shopping places, and happenings there. Someone might also post their vacation pictures so you can see what another area of the world looks like. There are so many subjects you can explore on Hive. It is not only a Reddit alternative, but has also been mentioned as a Twitter alternative. The Hive social app can be downloaded to your mobile phone and used similarly to the Twitter app. Therefore, using it could be an excellent alternative to using the same old apps all the time.
2. Mix
Mix's motto is to 'expand your mind.' Therefore, you might find this site interesting, and it could replace Reddit. The Mix does precisely what its name says. It mixes various topics and makes them available for people searching the web.
You can find information about ancient architecture, golf cars, dance moves, or just about anything else under the sun. However, you must know how to search the site and find exactly what you want.
It's an AI-powered personal feed of images that relate to your areas of interest. Thus, you can use it as an alternative to Mix if you use Reddit mainly for memes and photos. Mix will offer many more pictures but less conversation. The good news is that some features on this site are similar to Reddit's. For example, you can vote other people's pictures up or down if you desire.
Mix has more than 58,000 curators and a variety of pictures you can use for your projects or personal enjoyment. You can sign up for the site in only a few minutes by clicking 'Join Mix' and then connecting with your social media page. Users can sign up for Mix using Apple, Google, Facebook, or Twitter. More options may be available in the future.
3. Car Talk
Car Talk is an excellent alternative to the Reddit forums if your primary interest is in vehicles. It provides a space for you to contribute if you have vehicular questions or concerns or if you want to give other people advice about common automotive problems. You can even buy or sell a car using this website. Recreational vehicle rental is an option well.
The site has a pleasingly bright interface and uses a 'like' system similar to Facebook and other social media sites. Furthermore, it shows the poster and visitors how many views it has without having to navigate to a unique 'insights' page or link. Categories on this website are broken down into 10 major areas. Visitors can click on General Discussion, Maintenance/Repairs, Buying/Selling, Site Feedback, Power/Fuel, The Show, Auto Type/Class, or Driving/Drivers. There also appears to be a new category called 'Ask Someone Who Owns One.'
Car Talk visitors don't necessarily have to contribute to the forums. They can visit the website to read car reviews, look for deals or recreational vehicle rentals, or find the most popular repair shops.
4. Hacker News
Hacker News could replace Reddit if you like searching databases for information and having access to an assortment of subjects. The interface is very basic and includes a listicle of posts. You can use one of several methods to find what you need on this site. One way is to use the search tool to look for what you need. For example, let's say you want to find the best restaurants in NYC. You could type that into the search bar, which will direct you to a long list of related posts by relevancy. You can then click on the post that looks the most like it contains the information you need and go from there.
Other people can add comments that help answer the questions you ask. You can also contribute to the site by commenting on someone else's post. Additionally, you can reply to other people who have contributed information to the site. You can use this as an alternative to Reddit if you want a more simplified way to search for things. Many users take advantage of this site to find the things they need and help others do the same.
5. Quora
Quora is another fantastic site that could replace Reddit if you really want to replace it. The description of Quora is 'a place to share knowledge.' It's an online knowledge base people visit to share information or ask questions other people can answer. Quora has existed since 2009 and has been public since 2010. The site has over 300 million users.
Quora's user interface is primarily red and white. Users can easily ask a question or contribute something using a posting box that looks similar to Facebook and Twitter's boxes. They can set their questions to appear publicly or limited. After posting, the users can wait for all the answers, comments, and contributions to come. Categories include Health, Business, Cooking, Science, Food, Driving, Technology, and Fatherhood.
Don't let the limited categories fool you, though. You can find anything on Quora, from information about job interviews to hearing aids for sale.
6. Imgur
Imgur is another site that could replace Reddit. It has existed since 2009 and has more than 300 million users. Imgur probably has one of the most attractive interfaces, but it can be unclear if you're used to using Reddit.The categories and posts are arranged using a tile style.
Visitors can explore tags, search by the most viral content, or use the convenient search tool to find the content of interest. They will type in ' breast enlargement' if they want to see the latest posts pertaining to breast enlargement. It really is that simple.The upvoting and downvoting system is similar to Reddit's. Regular users can also make comments and talk back and forth with each other and the content poster. You can visit this site any time and check it out to see if it suits your needs. You might find that you prefer the community to Reddit.
7. Product Hunt
Product Hunt could replace Reddit if you are a techie or a person searching for tech products. It's a huge forum and website with a marketplace built into it. You can use this marketplace to find computer products, hot tub manufacturers, gaming systems, and more.
The site also has a link to job listings for people seeking workers or work. The community forum has an upvoting system similar to Reddit, and users can communicate with each other to discuss relevant posts and such.You can even access advertising privileges by clicking on the 'Advertise' link. Using it to place your product can bring sales to you quickly.
8. Fine Homebuilding
The Fine Homebuilding site has information about everything from propane to wood panels. It's a site derived from the Fine Homebuilding magazine and has a lot to do with building and renovating homes. It could replace Reddit if your area of interest is related to home building and construction. The site is relatively easy to use.
An alternative to this site is the 'Do It Yourself' forum. This forum discusses all DIY projects, including home-building and renovation tasks. You can get started on the subject of your choice by looking through the subsections listed on the page. Some of the subsections you'll see include sections such as Interior Decorating, HVAC, Hardware, Garden and Outdoor, etc.
You'll get access to a mix of experts and other DIYers who can guide you through any process or give you ideas you may not have thought of previously. Site access and navigation are simple and easy, and you can get your project started rather quickly. It's a beautiful alternative to Reddit and even Fine Homebuilding if you can't access it for some reason. You'll find helpful information and people to interact with about anything relating to your home.
9. Feedspot
Feedspot is a different type of site, but it certainly could replace Reddit if you want to have all your information in the same place. It's a site where you can make everything come together for easy access, reading, and participation. If you visit the forums directly, you'll see an array of different forum types. You can then click on the forum type and see a new list of forums relating to what you chose.
For example, you might want to look at a construction forum to learn more about cutting concrete or find a contractor for a project you have in mind. Feedspot will give you easy access to many forums that cover the subject. Then you can see the websites and forums you find interesting, so you can go back to them later.The user interface is pretty basic, but you might like this site for the convenience of having your favorite forums and websites at the tips of your fingers.
10. Houzz
Houzz could replace Reddit if you are into home design or you mostly use Reddit to trade renovation tips and ideas with other homeowners. The site has three major categories, which are 'Get Ideas,' 'Find Professionals,' and 'Shop Products.' Thus, it can serve one or several purposes in your life. The 'Get Ideas' link will take you to a database full of gorgeous pictures of finished works on various parts of people's homes. You can look at those pictures and brainstorm to come up with ideas about your desired project.
You can also read the reviews and ratings for the businesses that did the work, and you can grab their contact information, too. It's a fantastic tool because it can give you ideas you usually wouldn't consider. For example, you might find a picture of a sprayed deck captivating enough to have one installed at your home. Houzz is not exactly a 'social' discussion forum like Reddit is, but it could be a nice alternative if you want to explore your options further.
Those are a few sites that could replace Reddit if you're seeking an alternative. You can begin your replacement processes now and have a reliable site ready when you want to call it quits on Reddit. The one you choose will depend on your primary interests and how sociable you want the site to be. You'll also need to consider the userface and the ease of use in general. Start looking at these alternatives and then do additional research to find more that you can replace your regular Reddit visits with. You'll have a blast.