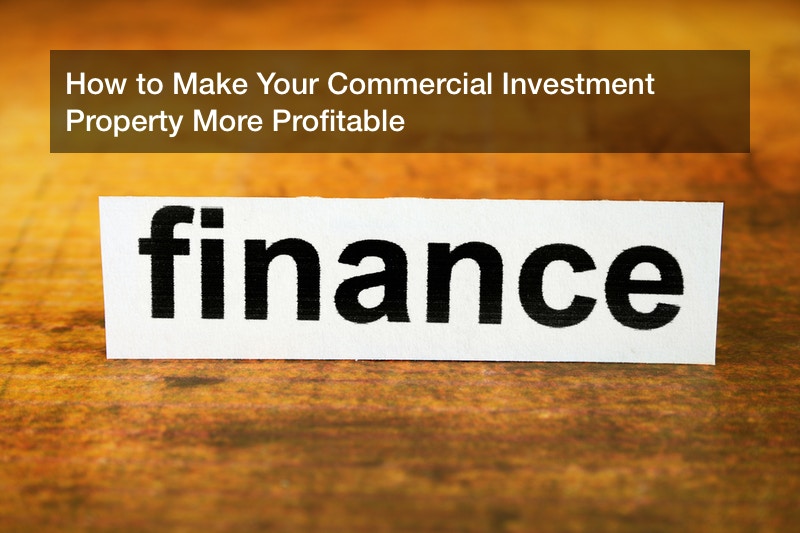 How to Make Your Commercial Investment Property More Profitable

Putting your money into commercial property is a savvy business investment. However, it's going to be a constant uphill battle — renovations and plans for the future should always be in the foreground. After all, how else are you going to keep residents, tenants, and shoppers engaged with your property?
Therefore, if you want to learn how to enhance the rental value of commercial property, continue reading. Here are a few ways you can up the anty and create a building that makes a lasting impression on everyone.
Keep it Clean
If you own a large commercial company, how on Earth are you going to force everyone to keep their trash off the ground? You can't be there 24/7 — which can be nerve-racking if you want to keep a pristine building.
However, you can make throwing out the trash more convenient for tenants, so they are less likely to litter. A commercial dumpster rental can keep their trash off the ground. Other benefits of hiring a third-party service for your dumpster needs include these great factors.
Your building will smell great!
You'll reduce your risk of developing a pest problem, which can destroy the rental value of commercial property.
Proper Pest Control for a Cleaner and Safer Building
This maintenance task can improve your commercial property's value since pests like mice tend to chew through wires and tear up furniture. Mice can also spread deadly diseases and germs through their urine and droppings such as hantavirus, salmonellosis, and listeria.
Now that you have a better grasp of some popular industries regarding the maintenance of your building, it's time to discuss finding the right commercial plumber.
Hire the Same Commerical Plumbing Agency for Your Plumbing Needs
Plumbing issues are not as nightmarish when it comes to a residential property. The plumber can fix a couple of toilets in a single session. If there's a leak, no drama! However, commercial property is a different story entirely! The rental value of commercial property can rest solely on the plumbing, so this is no joke!
Your building may have several bathrooms, sinks, and hundreds of feet worth of pipes underneath. If there is a plumbing issue of any kind, how can you go about solving it?
Hire the same commercial plumbing contractor for every job. The communication won't get muddled up every time you try to explain an issue to them. If you're using the same contractor for maintenance and service, they'll already be quite familiar with the layout of your building.
Also consider whether or not they have someone on call for 24/7 service. Make sure that their company is large enough to handle your needs too. Lastly, ask for proof of insurance and make sure they are bonded and licensed before they take the job.
Make Physical Improvements to the Property
Is it time to refurbish the building, or add modern touches? These can drastically improve your building, and thus increase your investment property's value. We're talking about paint jobs, gardening, modern furniture, and more.
Provide Ample Parking
Maximize your parking for profit and convenience! A stressful parking situation can drive customers, residents, and tenants away, so make it easy for them and don't have them parking on the street. Not only does street parking limit your traffic (literally!), but it can also be unsafe and decrease the rental value of commercial property.
There was a time when parking lots were designed by simply eyeballing an empty lot near the commercial property, and painting a few stripes in white paint. Thankfully, we have technology in our corner to map out the perfect amount of spaces that can safely fit on one lot.
When designing your lot for maximum profit on the rental value of commercial property, start with these basic steps.
What is the Lot's Purpose?
Right off the bat, consider why you're building the lot in the first place. If it's a high traffic shopping area, you will need more space for cars. If it's an apartment complex, you may not need as many spaces, but still want to consider convenience as a factor. Your tenants will be unloading groceries, so you want to give them ample space. Also, consider the thickness and angle of each space when planning out your lot.
Consider How You'll Maintain the Lot
Even after your parking lot project has been completed, you will still have to maintain it to keep your customers, tenants, and shoppers happy. Their cars will thank you too! To do this, look into commercial concrete restoration. You may not need it now, but sometime down the line, your parking lot can suffer erosion and cracks from natural factors.
Not only are these cracks unsightly, but they are also dangerous since they can cause anyone to trip on the hard concrete. Large divots can also downgrade the rental value of commercial property.
Get Creative With the Amenities
If you have invested in an apartment complex, ensure that there are suitable amenities for your guests to enjoy to increase the rental value of commercial property. For example, you can add a swimming pool, a billiards table, or a common area where residents can meet for boardgame and movie nights.
If you run a shopping center, consider a fountain or a photo-op wall where your shoppers can take their best selfie. Do your best to make your building not just clean and safe, but also exciting and enjoyable!
Make Tennants and Shoppers Feel Safe in Your Commercial Space
You can also pour more money into the security of the building. Make the people who use your retail or commercial space feel safe when walking to their cars late into the night. But how can you accomplish this?
Camera Security
Adding cameras can add a heightened sense of safety. It can also cut down on shoplifting in your commercial building. When selecting a security system, ask yourself these next few things.
How long do the cameras record for?
Can you also hire a live surveillance team to watch the footage?
How long will the cameras last before they can be replaced? Are they sturdy and durable?
Are they small enough that they can be hidden?
However, cameras are not a real substitute for a security team. If you want to up the value of your rental value of commercial property, hire a 24/7 team that will watch over your residents and tenants. This can be a deciding factor when a client is trying to determine whether or not to work for you.
Add Garage Doors
For an elevated sense of security, add commercial garage doors so your residents can sleep tight, knowing that their vehicles are heavily guarded and safe.
Repair Fences and Gates
Aside from security, you should also pour money into the property itself. Especially if you want to increase the rental value of commercial property. Therefore, repair the gates, doors, and windows for the added security. Not to mention, it looks better as well.
Make the Stairwells Safer
Stairwells can feel quite eerie, so do your best to make these areas of your property as safe as possible. Ensure that they are clean and have cameras on every corner.
Repair Your Flooring
Another main concern people have when considering their safety? Falls. They can cause serious damage! To prevent slips and trips that can injure your tenants, ensure that your flooring is always repaired.
Improve the Landscape of Your Commercial Building
Invest in the landscape if you want to increase the rental value of commercial property.
Design something that won't cost you thousands of dollars to upkeep throughout the year. However, your plan should also draw people in, and make them want to visit your building.
Maintain What You Have
Even if the current landscape is made up of a few trees, ensure someone is keeping them trimmed. An overgrown yard or garden can diminish the rental value of commercial property.
Choose Plants Unique to the Area
If you're from Texas, plant some bluebonnets or similar flowers. If your building is located in Arizona, go crazy with the cacti! Landscaping should tell a unique story. If you're struggling to flex this creative muscle, hire a landscaping contractor who can help you with everything from design to commercial garden irrigation.
Keep the Roof Sturdy
Don't even think about the worst-case scenario if your roof caves in! Residents can become seriously injured, causing a decrease in the rental value of commercial property. However, commercial roof restorations can rebuild, reinforce, and make your tenants safer. Call an inspector after a bad storm, as hail can be your roof's worst enemy. Keeping up with the roof can also save you money on costly repairs down the line.
Hire a Property Manager to Handle Things When You're Not There
As you can see, a lot of maintenance goes into your investment property. This upkeep is crucial if you want to see your property succeed. However, with your busy schedule, how can you be sure that all of these tasks are being completed?
A property management team ensures that your investment doesn't go to waste. If you're wrestling with the thought, answer these next few questions. First, how far do you live from your property? If something happens to a tenant in the middle of the night, are you able to rush over to handle things promptly?
Next, ask yourself if you get easily stressed or overwhelmed. Having a team of property managers in your corner can help you if you struggle with confrontation, or hate handling the day to day tasks that come with running your building.
Lastly, ask yourself how experienced you are with repairs and maintenance. You should have some basic understanding of these concepts. If you don't, a property management company can help you locate the right contractors for the job.
Monitor Your AC
Depending on where you live, a building is pretty much useless if it doesn't have a running AC. Your residents and tenants will complain — and why shouldn't they? If you don't want to lose customers and residents in your commercial building, find a commercial cooling installation company to make sure your AC is working well during those hot summer months.
Conclusion
Your commercial property was a smart investment. But what if there was a way to increase its value and increase the amount of money in your pockets? Luckily for you, there are several ways you can accomplish this.
Bathroom plumbing services, new garage doors, proper security, and bright and colorful landscaping are just a handful of ways. While these may feel more like expenses initially, you'll soon come to realize how crucial these services are to your building's success.
Take the time to visit your property, assess how you can make it better by improving the landscape, or adding amenities, and you'll make your investment back, and then some. Every savvy business person knows that investing is always a risk, but if you're ready to enhance the property, there's no telling how large you can grow your original investment.