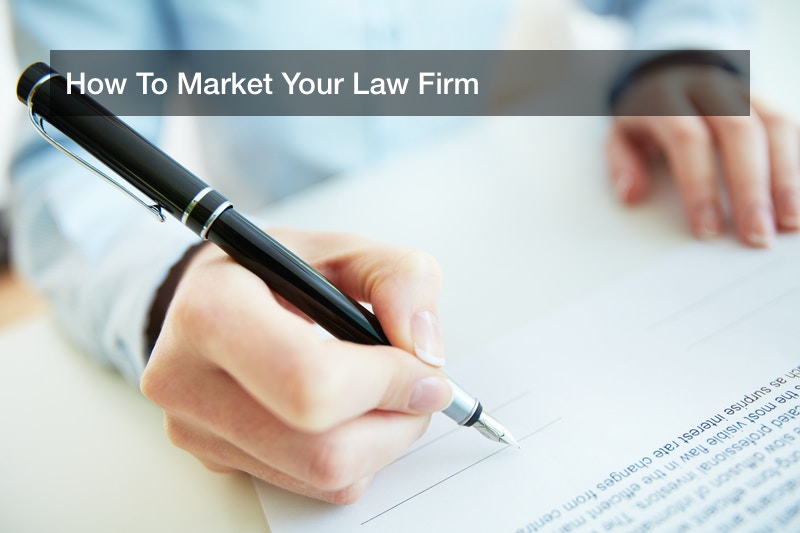 How To Market Your Law Firm

Lawyers are essential components to the process of justice in today's society. Not many will understand the legal process, necessary components, and finite details of cases ranging from small traffic tickets to larger-scale issues. But receiving and retaining clients is the utmost important factor in maintaining a high-quality, high-profile, and widely regarded law firm. In order to obtain a favorable public persona, the message of your law firm must be attractive yet honest, available while respectful, and above all must include well-documented and positive client testimonials. These are the basic elements of creating a marketing plan for a law firm. Without these elements, your firm may not be seen, highly regarded, or sought after. Yet if your firm takes on strong elements of marketing yourself well, you will have a great business to come while providing necessary justice for your clients.
Social Media Marketing
Social Media has become a wonderful phenomenon for marketing yourself and your services. Social media reaches wide audiences and a variety of potential new clients, and creating a marketing plan for a law firm can become accessible at your fingertips. However, there are precautions to take into account when marketing your law firm on social media, such as highlighting current and accurate information, sensitivity to current events, and general posting rules like correct grammar and relevant photos. But keeping those in mind, there are many ways to reach a larger audience containing a variety of ages, ethnicities, law needs, and other backgrounds that will require your legal services.
Various social media platforms have various tools to market your services, legal consultations, and other necessary items your firm offers. The first and cheapest option to use social media as a marketing tool is to grow your recognition organically. This can be done simply by posting a social media update daily, having larger profiles share your information, and having quality client testimonials captured and highlighted on your business profile. These are easy options to grow your following and therefore your clientele. For example, social media advertising is used widely by car accident law firms to advocate against drinking and driving as well as texting while driving.
Alongside organic growth, there are also paid advertisement content options available for businesses. Law firms can use this advantage by highlighting a particularly favorable case or a lengthy history of accomplished casework and market on the history and length of your law firm. This will certainly attract new clientele and ensure recurring business with your law firm. Paid advertising is simple and can be set up on a variety of social media sites and can reach new audiences in the thousands.
There are also a wide variety of platforms to choose from, which makes social media marketing a great opportunity to market to potential clients. Depending on the nature of your firm, you may choose a platform that focuses on photography. Or, you may choose a platform that focuses on captured video and real-life testimonials. You may also choose a social media platform that is writing-centric or news centric so you can share current events and their relation to your clients.
Creating quality content, using hashtags, encouraging shares, and engaging with the online community will all culminate in a well-marketed business that attracts new clients. Consider other ways that social media may enhance your visibility and business profile. For example, family lawyers and those with a criminal law firm, among many other law firms, may consider using social media when creating a marketing plan for a law firm.
Traditional Paid Advertising
Traditional paid advertising is another effective way to gain new clientele and to promote your business. Traditional advertising can be found and used in a variety of ways, including TV ads, radio ads, billboards, print ads in newspapers and magazines, store ads, and other types of ads that have been used for an extended period of time in a traditional manner. Some may question if traditional paid advertising is still an attractive option when taking into account the possibilities of social media advertising, and the answer is yes. Traditional paid advertising is a competitive option that will enhance your business prospects in creating a marketing plan for a law firm.
Billboards, large signage, and other factors play into traditional paid advertising, yet is important to use this advertising cleanly and attractively. With this type of advertising, the goal is to simplify your business options and condense your marketing statements alongside images into a compact and clear message that will inspire new clients to seek out your business. Think about the way major companies use signage and billboards, TV ads, radio ads, and others to attract new clients or make aware of your location to nearby residents. When seeking out this type of advertisement, consider using a well-renowned advertising company or signage company to create the content that fits your business best while maintaining clean and aesthetically pleasing marketing content. Lawyers in a personal injury law firm, bankruptcy law office, or other various firms may consider this option to promote their representation of clients, both recurring and new.
Search Engines and Online Forums
Another few resources to enhance creating a marketing plan for a law firm include search engine optimization, known as SEO enhancement, and online forums. Both of these resources generate larger visibility on major search engines, social media platforms, and websites. Just about 45% of companies who are looking to enhance their image state that their marketing plans are "highly integrated" with their strategy using search engine optimization. Search engine optimization also enhances your visibility online ahead of other competitors. When done right, and even with the correct companies, search engine optimization can give your marketing strategy and upper hand while bringing in new clientele.
To understand forums, a history of forum implementation and an understanding of the technical forum process is essential. Forums are important resources to target when looking to enhance marketing strategies. Forums are discussions online where those searching on the internet can discuss issues by commenting or posting in a casual conversational style. When these conversations come together into one larger, singular conversation, the internet forum is then called a thread. If a forum thread is important but not often posted on the forum, this thread is sticky. A sticky thread appears not behind, but in the front of other normal threads on a forum website. A person who is often found posting and reading particular forums is considered a "lurker" by other users of the forum, and they range from being extremely beneficial if they are a consistent client, or they may be a commenter who needs managing. It is important to look out for these types of commenters on your forum platform. When creating a marketing plan for a law firm, consider these components in your forum creation.
Online forums usually incorporate a moderator to view and keep track of posts, while maintaining quality conversations within the platform. These conversations are free discussions of potential and former clients who are essential when creating a marketing plan for a law firm. Forums also include directories that allow users of the online platform to search for particular forums containing the information they are looking for quickly and easily. These directories, simply understood as internet forum directories, are often organized in alphabetical order or by relation to the topic. Along with their organizational benefits, many forums incorporate a tracking tool that tracks the number of posts created by the forum's users.
Forums tend to incorporate a rating tool as well, which allows forum users to rate various forums they are a part of. Other web-users who are looking for forums may deem the forum quality high or low based on the rating tool. The forum system of rating uses the combination of ratings that the users provide and converges these ratings into an average rating. A forum page is also rated based on the discussion quality, web page quality, and navigational ease of the forum page by its readers. By using forums to enhance your visibility, you are creating a marketing plan for a law firm that creates an enhanced discussion section and provides room for great recorded experiences with your business. Clients and customers often look up the ratings of businesses before they participate in any business transactions!
As opposed to chat rooms, forum posts are usually kept in an archive, and those wishing to post may post on their own schedule or within their own timeline. In fact, forums have been used for quite some time — which goes to show their efficiency for communicative and marketing purposes. Modern forums found their beginning in online boards much like an online version of a bulletin board, which allowed for a conversation via chat messages between internet users. Forums date back to 1983 and are still used today to highlight testimonials, experiences, and successes. Web-based forum popularity finds its start in 1994, encourages nearly three decades of forum use for questioning best law firms, representation, or any other forum topic. There are a large variety of forum topics and discussion points that range from sports, support groups for mental health, other health issues, skills, hobbies, and particular to the marketing scene, forums that discuss quality businesses.
There is a large amount of businesses today who are now hosting forums on their business websites. Their forums allow for new customers to have conversations about the business' services, offers, products, and experiences. Businesses include high details regarding their goods and services on their forums in order to generate a greater reach daily. For law firms such as car accident law firms, family law firms, and others who have the type of service to create a discussion with great testimonials and experiences. To increase your forum's popularity, simply look to increase the discussion. The popularity of a forum is determined in general by the post frequency that the forum receives. When looking to create a forum and implement it into your marketing strategy, an option is to search for high-quality forum packages that can be found on the internet.
Other Marketing Resources
If you are a lawyer or work for legal services and are interested in creating a marketing plan for a law firm, it is vital to include and research all possibilities. Maintaining a brick-and-mortar office and an institutional law firm with high-quality representation naturally includes marketing strategies that enhance potential customer search and visibility. Across the nation, stores that have a physical building account for 94% of all sales in retail. Around 49% of shoppers in America prefer to visit physical locations when they shop. These are telling signs that physical locations bring in a strong variety of customers. With such locations, marketing aspects are important to keep in mind.
Other resources are less obvious than regular advertising strategies but prove to be effective. Local word of mouth, and also online word of mouth, will bring in new clients for legal services. Up-to-date commercial signage will also be an added benefit to your law firm. Signage is an easy and attractive way to bring in new business. Clean, modern-looking interiors will give the impression that your business is organized and relevant, creating a positive experience for your clients. Many legal offices do not take these factors into account, and it hurts both their physical persona as well as their business reputation.
A strong brand leads to a strong customer base for your legal services. Around 77% of leaders in the marketing industry state that a strong brand is absolutely critical for business growth. Legal services is a competitive industry, and every aspect should be taken into account! Inspiration for modern-looking interiors and signage can come from a variety of places including pop culture, social media, major magazines and interior design brands, digital advertisements companies, graphic designers, and more. Those with legal services about bail bonds, a divorce law firm, or other law firms should institute these policies when creating a marketing plan for a law firm as natural ways to market yourself and gain an edge over your competition.
Marketing is an essential part of any business to enhance visibility and maintain former clients. Yet when creating a marketing plan for a law firm, many more aspects come into play. Think over these marketing strategies as you make your law firm visible to new clients!