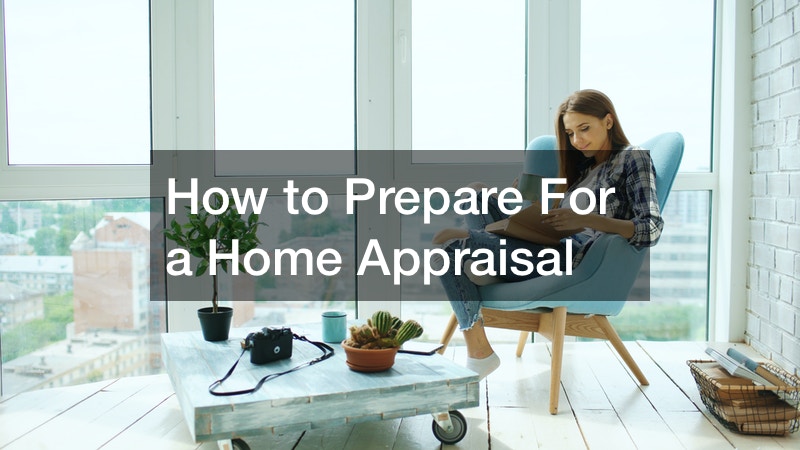 How to Prepare For a Home Appraisal

Homeowners must get appraisals on their homes from time to time, a process that can be rather harrowing for many. For example, some may end up getting a value that doesn't meet their expectations. Usually, this happens because they weren't adequately prepared before the appraisal.
Thankfully, a high-quality appraisal doesn't have to be a significant difficulty if you understand the different things you can do to help yourself. These five steps are all essential whenever you get an appraisal and help ensure that things go as smoothly as possible for your situation.
Step One: Enhance Your Home Value
Whether you are own one of the many newly built homes in your area or one that's been around for a while, it is vital to enhance your home value before an appraisal. Doing so helps you out when working with an insurance company or selling your home at any time.
Roof Repairs — You should hire roof repair professionals to enhance the overall appearance of your home. These don't need to be significant upgrades to your roof, mind you. Instead, all you might need is a little gutter service to help spruce up the overall appearance and make your home more appealing.
HVAC Upgrades — Your heating and cooling system need to be in great shape to enhance the overall value of your home during the appraisal. Get HVAC maintenance or install a slightly new system to get the high-quality help that you need to stand out and make your home more appreciated by the appraiser.
Update Your Garage Door — Make sure that your garage door is as strong as possible, repairing it of potential damage and upgrading its surface with various types of renovations. Garage door repair is usually inexpensive and doesn't take much work to get into the proper working order.
Tidy Up Around the Yard — Don't forget to pick up any debris or items that may be lingering around in your yard, paying attention to the exterior appearance of your house, and eventually moving indoors to give the appraiser something nice to look at when they visit your home for the appraisal.
Create a List of Modern Improvements — If you've made any recent improvements on your home, create a list of them that you can point out to the appraiser. Doing so will help make their job easier (they appreciate this kind of help) and ensure that you get more money for your house.
As you can see, contacting various types of builders, HVAC contractors, and other experts can increase your appraisal value. In addition, by making your home look better and truly providing tangible benefits, you will interest the appraisal experts and make it simpler to stand out when getting your home appraised.
It is important to remember that a home inspection is NOT an appraisal and should not confuse one. An inspection has a professional who goes through your home to check out various elements that may need upgrading. They can help provide a guide through an appraisal process by:
Spotting Any Issues Before They are Major — Many minor issues are complex for the average homeowner to catch but will be spotted by a home inspector. They are trained to handle this process and know what elements to look for that you may miss due to your lack of experience.
Giving Help on Where to Fix Your House — Once an inspector spots potential problems with your home, they can connect you with an expert who can help. In this way, you can get the upgrades necessary to make your home more presentable and acceptable for appraisal professionals.
Spotting Potential Catastrophes — Many homes are just a few steps away from a severe problem, such as a complete plumbing failure or even an electrical fire. An inspection can spot these issues before they destroy your home and ensure they aren't present during an appraisal.
Creating an Estimate on Your Home Value — Though a home inspector is not an appraiser and cannot value a home as they do, they are usually trained to understand many of these elements. As a result, they can provide a little help and give you an idea of your home value in an appraisal.
Whatever the case for your home, an excellent inspection gives you the chance to fully understand your home on a deeper level, engaging with it in a way you may never have before the review. Many people don't realize just how intensive and beneficial this process ends up being for a house.
After you work with an inspector, it is time to get the appraisal and do what you can to make this process easier. Before you hire anyone, though, it is vital to do a little research to ensure that you end up with the kind of professional who makes sense for your needs here.
Step Three: Know Who to Contact
When getting an appraisal for a home addition, you must make sure that you contact the right professional to handle this process for you. A few different companies may be available in your town, and each must be carefully understood before choosing one.
Thankfully, these steps aren't too complex and can usually be finished relatively quickly. While you will need to do a little research to make sure you are satisfied, the result should be no more than several hours or even a few days, which should include steps such as:
Call Each Team — When you're researching an appraisal company, it is crucial to contact them right away to learn more about what services they offer. Get a feel for who they are as a group and try to feel out whether their approach and your needs coincide in meaningful ways.
Handle Legal Steps — Make sure that you talk to your appraisal crew about any legal steps that must be taken to handle this process. For instance, various contracts must be signed, licenses that must be validated, and other paperwork must be managed effectively.
Talk to Your Bank or Financing Firm — When you have a lending group associated with your appraisal, you must talk to them about which appraisers are available and find someone that meets your needs and satisfies the financing firm's demands time.
Come to a Decision — Use the various information you've found during your research, including input from your financing officials, to decide on an appraiser. Ensure you also talk to your city officials to get the proper paperwork for processing your appraisal situation. This step helps minimize legal complications with your city or state.
These simple factors should help narrow down your options and make picking the right crew easier for you to handle. Make sure that you talk to each team about their process, give yourself time to understand their benefits, and do what you can to make your home look more appealing.
Step Four: Stage Your Home for Better Appraisals
During the appraisal process, stage your home to make this process simpler. The idea here is to make your house feel more comfortable and welcoming, making the appraiser more likely to give you a great result. Just a few steps that you can take to improve your chances of success here include:
Clean Up the Interior — Do a rudimentary cleaning of your home's interior to ensure that it is welcoming to the appraiser. Cleaning it up also helps make it look more presentable and add a little to the appraisal value, though this may be a minor amount compared to upgrades and repairs.
Open Up the Walkways — Try to avoid cluttering up the walking areas of your home during an appraisal. Pick up debris, move excessive items into storage centers, take out unnecessary furniture, and make your home appear more open and free of frustrating and annoying clutter.
Brighten Up the Interior — Open up all of your window blinds to add a little of light and reposition any lamps, as necessary, to brighten them up further. Doing so helps make your home more appealing and gives the appraiser a little more light to check out any potential concerns or problems.
Should you spend a lot of money painting your home or adding upgrades when staging? Not necessarily, unless doing so may boost your home value. For instance, value-adding steps like efficiency appliances or neutral paint colors may help. Other steps may just be a waste of money.
A strong rule of thumb on this point – only do upgrades that you'd want for your home. That way, if they don't improve your appraisal, you'll still have something nice for your home and won't have wasted a lot of money on enhancements that don't make sense for your needs as a person.
Step Five: Find a Day That Works Best
Lastly, you need to make sure you pick a good day that makes sense for your mortgage appraisal process. Trying to work on a day that doesn't make sense may cause some confusion that could trigger difficulties with your appraisal. Or you could end up disappointed with the result.
Thankfully, there should be plenty of days that you can choose to get a great experience with your appraiser. After you've narrowed down the options, and you feel comfortable with the person who you have chosen, it is time to select a day based on these simple steps:
Take a Day Off Work — If your appraiser can only come on a day when you are working, you may need to take a day off to be there for the appraisal. While you don't have to be present during some appraisals, doing so will make your insurance company much happier during this process.
Pick a Nice Day for the Weather — Typically, gloomy and overcast days make a house look less appealing and could unconsciously affect what an appraiser says about a home. Try to pick a lovely sunny day to minimize this potential risk and pick a day that isn't too hot to avoid discomfort.
Try to Avoid Busy Seasons — Many appraisals occur during the warmest time of the year, such as late spring, summer, and early fall. Pick a day that isn't located during these busy seasons, and you should find an appraiser easier and get a better valuation of your home at the same time.
Ask About Their Schedule — Remember – your appraisal team is likely visiting many houses and may need a little patience before they come to yours. Therefore, when you reach out to an appraisal team, make sure that their schedule syncs with yours, and these issues should be minimal or non-existent.
As you can see, finding a good day for an appraisal is often as simple as choosing a beautiful and sunny day and calling an expert up to learn more about their schedule. Often, appraisal professionals are in high demand and may need to schedule out a month or so in advance to get the best results.
However, other teams may have many workers who can create a more advanced and high-quality appraisal experience. Whatever the situation, make sure you work with the team to avoid complications and stay in constant touch with them before they come to visit you.
Getting a Great Appraisal
As you can see, the best home appraisal isn't impossible to get if you fully understand how to prepare. However, by taking the time to follow these steps and engaging with them as much as you can, you can narrow down your options, create an exciting appraisal process, and get the value that you want.
So make sure that you talk to an appraisal expert before you start this process, learning more about other unique ways to prepare your home and yourself. These experts can guide you through each of these steps to make them easier to execute and simpler for you to understand before you begin.