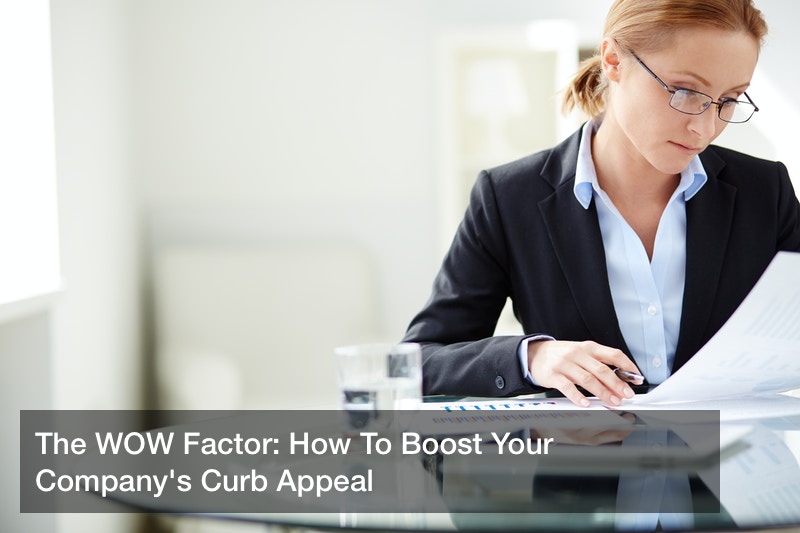 The WOW Factor: How To Boost Your Company's Curb Appeal

In today's business climate, leaders are constantly thinking of how to keep their companies from falling through the recession crack. One way business owners can make sure that their operations stay viable is by boosting the curb appeal of their operations.
Now some may be wondering what "curb appeal" has to do with a business staying viable in today's volatile market. Well, along with marketing and finding new ways to attract customers, improving the curb appeal of a business is one of the pillars to make sure businesses don't go the way of the DVD player.
Just take a moment to think about today's business atmosphere. It may seem like today's consumer is likely to sit in their pajamas and spend their money online, especially since the COVID-19 curtain has descended upon America.
However, you will be shocked to know that brick-and-mortar sales — the amount of profit made from in-person customers — account for nearly 94% of all total retail sales. That number perfectly illustrates that today's consumer hasn't quite given up on shopping in-person for their favorite product.
With that statistic firmly in mind, now is the perfect time to take a look at your company's curb appeal to see how it can be improved. That way, you can set your business up for success when the coronavirus crisis is firmly behind us.
What is Curb Appeal?
When we talk about curb appeal, we're referring to what the physical appearance of a store looks like.
This includes what the inside of your store looks and feels, as well as the outside appearance of a storefront. Features such as landscaping, signage, displays, even the design of the parking area count towards a store's curb appeal.
In our lives, appearances matter greatly, and how a customer looks at a store, both from the inside and outside, can really make a difference in how potential customers view your operation.
The greater the curb appeal, the more likely you will be able to retain existing customers as well as attract new ones. With today's climate fiercer than ever, you, as a business owner, have to take a good look at your operation and see what physical improvements can be made.
The First Impression Is the Best Impression
The first thing a customer will see of the store is what it looks like outside.
This is where you'll make your first big impression of the customer, and as the old saying goes, the first impression is the best impression you can make on an existing or potential customer.
Look around the outside of your business and see what you can do to spruce it up. If you have a lawn in front of your business, maybe purchase some mowers and use the off-time to mow the grass. Businesses should never, ever overlook the importance of landscaping.
It's fall time, so if you have a space in front of your business, plant some fall flowers to make the front of your business look pretty and inviting.
Also, you must take a look at your building's paint scheme. If it looks a bit tired and the paint is starting to chip away, it can give off a really dated appeal which could turn away potential customers.
Spruce up your building with a nice coat of paint, either by doing it yourself or hiring commercial painters to give your storefront a fresh, vibrant look that will be attractive to customers passing by.
Doing basic landscaping maintenance can add up to 14% to the value of your property and be a tremendous boost to your business' curb appeal.
Give Your Sign Some TLC
While your signage may have worked in attracting customers in the past, if you're seeing a dip in traffic, maybe it's time to give your signage some TLC.
As most business owners are well aware of, storefront signage is a critical aspect of a business' curb appeal. The signage makes a business easily identifiable. Take McDonald's for example, as when you see the "Golden Arches," you think of Mcdonald's, right?
Those Golden Arches — along with their awesome Big Macs — played a big role in making the fast-food chain one of the largest in the world. That's the power of a business having great signage. It makes your business that more recognizable.
Signage is a huge part of the overall brand of your business, so if it's no longer playing its part in attracting customers, changes have to be made to preserve your business' curb appeal.
Check and see if your signage is easily identifiable or clearly viable. How can potential customers know about your business if they can't see the sign?
If the sign is too small, enlarge it so that it can be identifiable and visible to the consumer. Also, make sure that the style of the sign is up-to-date and fresh so that it can easily be marketable. If you have trees in front of your business and it is blocking the sign, call professionals in tree care services to make sure your sign is seen.
Rebrand, Refresh
If you find that your branding has become a bit dated, then don't be afraid to hit that refresh button.
Rebranding your business will give your company a fresh start. Think about it for a second. You're already refreshing the outside of your business, so why not go for a full rebranding of your company to give it a more contemporary look and feel?
Companies large and small hit the refresh button on their branding to ensure that their curb appeal stays fresh. Take Walmart for example, which some years back switched up their logo and branding to the "spark" design that's become ubiquitous with their brand.
Granted, Walmart didn't have to refresh their brand, as they were already the largest retail store chain in the world and raking in billions. However, the chain realized that to compete with Target, which targets a younger demographic, that it needed to spice up its brand to keep its curb appeal fresh.
With a change in logo, Walmart also changed the paint scheme of their stores to reflect a more airy, inviting look for customers. With the COVID-19 pandemic forcing retailers to think about how they keep their storefronts clean, Walmart has instituted numerous measures such as spraying down their carts with cleaner and ensuring that stores are clean and well-stocked.
It is these measures that have boosted the chain's curb appeal, and these same measures can also work for your business as well Maybe contact a company with experience with industrial building design to look over and see what changes have to be made to improve the "WOW" factor.
Make It Easier To Navigate
The landscape surrounding your business will naturally begin a decline over time, which is why you have to make sure it's maintained so that customers can easily access your business.
It isn't pretty on a business for customers to see sidewalks and walkways crumbling, which is also a huge safety hazard. Get professionals out to your business to repave or patch you crumbling walkways around your business.
Not only will this make the access points to your business safer, but just like the landscaping, it will give your business surroundings a spruced up feel.
Make Time For Cleaning Time
Cleaning can be a chore, but it's a necessary part of the process of boosting your storefront's curb appeal.
It's always awesome to have a lot of customers coming in-and-out of your establishment, but that same customer flow can really put a toll on your business. Make sure that you're doing daily tidying up of the store such as ensuring the trash is taken out and the floors are vacuumed or, in the case of tile or hardwood floors, mopped clean.
You'll also want to ensure that your store has a deep clean every week, which is even more important in the age of COVID-19. Hire professional commercial cleaners to come in and deep clean your store.
Make sure you're not ignoring the outside of your business as well. Picking up trash in the parking lot and on the sidewalks is another part of landscaping that has to be done to keep your business looking attractive to customers.
Only The Best Merchandise Can Survive
While focusing on the outside of your business is a huge part of making your storefront eye-catching and appealing for customers, that same mentality also should apply to your merchandise.
Products make a business, and if you display merchandise that has not caught on with the public and is a drain on your bottom line, then the refresh period is the time to zero out those non-selling items and display merchandise that is a hit with your customers.
Say, for example, you run a garden and feed store, and you sell a certain brand of hydroseeding that isn't resonating with your customers. Displaying that type of hydroseeding on your store shelves will give a dated impression to customers.
So if you see this, you should research which brand of hydroseeding is more popular with customers, then order and display that brand to customers. Displaying the more popular items will lure more customers to your store, and will also work out splendidly for your bottom line as well.
Another great example is electronics. Say, for instance, your electronics store sells wearable electronics, but the products you display aren't selling nor are they attractive. Contac a wearable electronics design firm to see which products sell the best, and switch out the duds to display the more popular ones.
Never be afraid to take a strong look at your merchandise to see if there are any products or goods that can be replaced with better merchandise that can be displayed prominently within your store.
Welcome The Four-Legged Freinds
All of what is outlined here is designed to attract human customers, but what about those cute pets?
You must tailor-make your business to be friendlier to customers with pets. Maybe set out a bowl of water for those fur babies, or have a little section just for pets to play with toys? Many customers look for is also pet-friendly, and moving more toward that goal will win you over with a large segment of customers.
It's All About Atmosphere
The main thing about boosting your company's curb appeal is to switch up the atmosphere of your business, both outside and inside.
Making your business more inviting to existing and new customers is a win-win for profits. The more comfortable a customer feels about your establishment, the more they'll be willing to venture inside.
If that customer has great experience within your store, then they'll go tell their friends, who will also be willing to make a stop to your business, Building and comfortable atmosphere is almost always a winning strategy to keeping your business ahead of the pack.
It's also a great marketing tool as well, as you can proudly boast about the look and feel of your business. Customers want to visit a business that's safe, comfortable, clean, and lively, and no other time does those qualities play a huge role in business than now.
The major reason for boosting your business' curb appeal is to make sure that both new and existing customers will have a positive experience when visiting your store. That positive experience will translate into repeat visits, which will no doubt boost same-store sales.
So make sure that the atmosphere of your business is one that will make customers come back and win over new ones.
In conclusion, the curb appeal of business is all-too-important for any owner. Making sure the physical aspect of your business will do wonders in increasing sales and bringing new life to your business.
The majority of first-time sales all comes down to that first impression, what a customer sees before they even step into the door. If they find cracked sidewalks, fading and drab paint, dirty parking lots, and a generally unsafe environment, you can be assured that will be that customer's first and only time patronizing your establishment.
Today's customer base is looking for a good experience when vising a retail outlet, so make sure that, if your business needs a bit of a touch-up or a refresh, put the money in and do it. Make sure the parking lot is clean of trash and debris. Switch up the paint to make sure your business is inviting. Even if you have a geese problem, call a geese removal company to take care of the geese issue.
Commercial roofing companies to fix and maintain the roof. Doing these simple steps will, without a doubt, boost your business' curb appeal, and send your cool points up into the stratosphere.